Fairview HiFi is an Authorized Dealer of the Panasonic 4K UHD OLED TVs. "Tuned by filmmakers in Hollywood, our 4K Pro HDR televisions combine our Studio Colour HCX2 processor with a next generation OLED screen to deliver outstanding colour clarity, contract and brightness. Its striking super slim design will seamlessly integrate into your home."
Ultimate Picture Quality True to the Filmmaker's Vision
The following list of reviews and comments provides an entry into the world of Panasonic 4K OLED Tvs. If you have further questions, we invite you to come demo the product in-store and inquire about the advantages of Panasonic 4K OLED TVs for your home, business or office.
​
---
Complete Guide to the Panasonic 4K Lineup
Panasonic TVs 2017 Explained: All you need to know about Panasonic's 2017 TV lineup, from 4K HDR sets to OLEDs, LCDs, and plain ol' HDs. As Panasonic unveils the EZ952 and the rest of its 4K HDR and HD TV lineup, we take a look at which Panasonic TV is best and what should you buy. Our guide reveals all.
In the article you will find a quick way to decipher the model numbers. Some additional key statements made by Trusted Reviews include:
All the 4K models are HDR compatible – and with HLG
There will be no more curves from Panasonic, and the fact that

OLED is here to stay
---
4K OLED TV Have Arrived at Fairview HiFi
---
5 Reviews of the 2017 Panasonic 4K UHD OLED HDR

EZ1002 (EZ1000 North America) – 77 and 65 inches
EZ952 (EZ950 North America) – 65 and 55 inches
Panasonic TX-65EZ1002B review: The Panasonic EZ1002 4K OLED faithfully recreates filmmakers' artistic intent in your own home,
---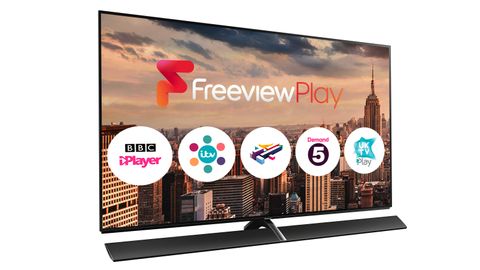 Panasonic's flagship OLED delivers the most consistently accurate pictures the TV world has seen to date ... By implementing a number of features usually reserved for the professional mastering monitor world, it's able to deliver the most consistently beautiful and accurate pictures seen to date, with both HDR and SDR sources. It also offers a highly effective smart system, and a strong audio performance from its built-in soundbar.
​
---
In a further boost of this particular OLED television's appeal, it should also be noted that the 65 inch version of the EZ1002 very recently won the title of "Best overall TV of 2017" at the 2017 Crampton & Moore/HDTVtest TV Shootout on August 17
th
of this year. This is pretty impressive considering the competitor models that this Panasonic flagship model went up against, which consisted of (European market model numbers here but with links to our reviews of their identical U.S market version
​
---
Panasonic bring professional monitor performance to a mass market OLED TV ... The
EZ952
, or EZ950 as it's known outside the UK, is the latest Ultra HD 4K OLED TV from Panasonic, following on from their
flagship EZ1002
. The latter took a semi-professional and uncompromising approach to image accuracy but at a price – the
TX-65EZ1002B
would set you back £6,999. The new EZ952B appears to offer almost all the benefits of the more expensive model but at greater price competitiveness – with the TX-55EZ952B retailing for around £2,999 and the TX-65EZ952B costing £4,799 as at the time of writing (June 2017).
​
---
For most people, the EZ952/ EZ950 simply makes more financial sense: its magenta-tinted coating isn't really noticeable in a dimly-lit room; most AV enthusiasts will likely have their own external audio solution without needing the EZ1002′s integrated soundbar; and the display provides sufficient calibration controls to achieve highly accurate colours for home viewing even without the uploadable 3D LUT functionality found on the EZ1000.
​
---
---
---
---
---