​"It's never been easier to immerse yourself in clear, lifelike sound for all of your TV shows, movies, games and music. The world's first sound bar with DTS Virtual:X*, the YAS-207 is capable of virtualizing sound in multiple dimensions – including height – offering more realistic sonic reproduction of any content without the complexity of using numerous speakers. The slim bar fits perfectly in front of your TV or can be wall-mounted, while the included wireless subwoofer can be placed anywhere in the room."
Yamaha YAS-207 review: a compelling, class-leading performer in a practical, easy-to-use package (What HiFi?)
The following list of reviews and comments provides an entry into the world of the Yamaha YAS-207 Soundbar. If you have further questions, we invite you to come demo the product in-store and inquire about the advantages of the Yamaha Soundbar for your home, business or office.
​
---

5 Reviews of the Yamaha YAS-207 Soundbar


Yamaha YAS-207 review: a compelling, class-leading performer in a practical, easy-to-use package – read the review at What Hi-Fi? ... With a multitude of soundbars competing in the budget-to-midrange market, the fact the Yamaha YAS-207 manages to excel in some areas of sonic performance that others don't makes it pretty special.
The YAS-207 is a natural entertainer, and another chapter in Yamaha's soundbar success story.
---
The Yamaha YAS-207 is an excellent sound bar package which offers sound quality which soars above others' at the price ... The YAS-207 was so good we sometimes forgot we were listening to a sound bar, and just enjoyed the movie we were watching. That's high praise indeed for this affordable system! If you want a step up from ultra-budget speakers, we'd recommend this Yamaha.
​
---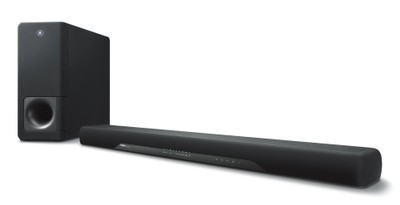 There's reason to be excited here. For one, in recent years Yamaha has gone a long way towards convincing listeners that sound bars can create good sound and, in certain situations, effectively mimic the sound of a full discrete surround system with front and back speakers. Second, DTS has demonstrated similar technology, with positive results, through its
Headphone: X system
.
​
---
Yamaha has introduced its first soundbar to support DTS Virtual:X technology, which is designed to re-create immersive 3D audio formats like DTS:X without the use of separate in-ceiling, on-wall, or up-firing speakers. Measuring just 2.38 inches high, the YAS-207 has...
---
When it comes to recommendations, I'll gladly state this is a good, fun soundbar that can be pleasant yet accurate using Yamaha's surround or stereo modes. Or, it can use DTS Virtual:X to create an in-your-face pseudo-immersive effect that can be interesting and even exciting, especially in a gaming context. Yamaha's YAS-207 is a soundbar that has lots of features, sounds great and performs well considering its cost.
​
---
The Yamaha YAS-207 Soundbar in Photos:
Still not convinced that the Yamaha YAS-207 Soundbar is for you? We invite you to drop by Fairview HiFi to hear the difference.
​