"Mu-so Qb is the new compact wireless music system from the engineers behind the award-winning Mu-so. Controlled by a powerful audio brain, Mu-so Qb is alive with custom-made features all designed in our audio laboratories in England. It's a true feat of sound engineering. From the contours of the glass-filled polymer casing to the bass radiators that help create huge low frequencies – every millimetre of space has been used to great effect. Simple to control and easy to connect, Mu-so Qb delivers a staggering 300 watts that unmasks your music with a sound that defies size."

"You can also combine Mu-so Qb, Mu-so and other Naim streaming products for the ultimate multi-room experience. Simply sync the units to play the same song beat-for-beat in up to five rooms."
Mu-so Qb is a wireless music system alive with innovation.

---

6 Reviews of the NAIM Mu-So QB
Naim Mu-so Qb review: a small speaker with big personality, the Qb combines style, substance and a whole lot of features to great effect What Hi-Fi?
"We praised the ability of the original Naim Mu-so to deliver hi-fi sound in a wireless speaker, and the Qb follows in these footsteps with a big, authoritative sound that belies its small stature."
"It's impeccably made – heavier than it you might expect, and topped with the same gorgeous touchscreen dial that we loved on the original Mu-so. As well as adjusting the volume, the aluminium dial also doubles as the control panel for the Qb, allowing you to tap illuminated icons to select inputs and manage playback."

---
The newest member of the Naim family is a distinctive shape but it's certainly no square."
"I'm also pleased to say that the Qb embodies many Naim values in the way it sounds. This is more than a device for background music but a genuinely enjoyable and involving little machine. In a more commercially brutal sense though, this doesn't matter as much as the fact that when you walk into John Lewis and look at your options at £600, the Mu-So Qb is the pick of the pack and an unquestionable Best Buy.".
"Learn about drawbacks?Learn how the Mu-So QB was tested? There;s a great rundown on the qualities that make the Naim Mu-So QB an excellent buy and why they have scored the Qb 9 out 10."

---


When the original Naim Mu-so launched in 2014, it was received with critical acclaim. Although it's a physically large bit of kit, it impressed us so much.
"If you're looking for high-quality audio at a smaller size and price compared to the original Mu-so then the Qb certainly makes a strong impression - and as it's possible to pair it multi-room style with an original Mu-so, it could be the ideal second-room companion. We'd not call the Qb a budget speaker by any means, but its £595 price point is about as low as we thought we'd ever see from the Naim.

---
This can-do cube packs a heavyweight hi-fi punch - "At most volume levels, the full-bodied punch the Qb ploughs into tracks works to its credit, and is supported by a clean, focused midrange and a treble that's never in danger of sounding hard or harsh. Push the volume close to the max and you will hear the bass get thicker, but with the pure scale on offer here, we'd be surprised if most rooms need to go much past half way."


---
Last year, British high-end audio house Naim launched the gorgeous Mu-so wireless music system. Now the same engineers responsible for its design have developed the Mu-so Qb, an equally good-looking compact wireless system that's reported capable of throwing out 300 W from its five speaker drivers.
---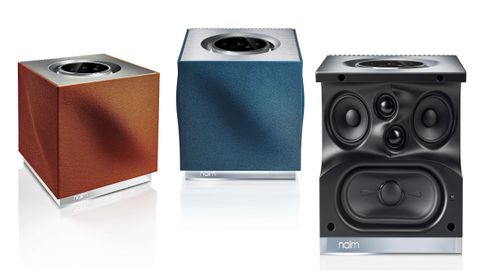 This thing sounds superb. Cracking. As Jim Bowen would say, super, smashing, lovely, great. It's a rich, delicious, chocolatey sound
​ ...
---